CUUG Upcoming Meetings
Last update: $Date: 2015-10-29 00:20:55-06 $
---
November General Meeting
Technocreep
Speaker: Tom Keenan, Professor, University of Calgary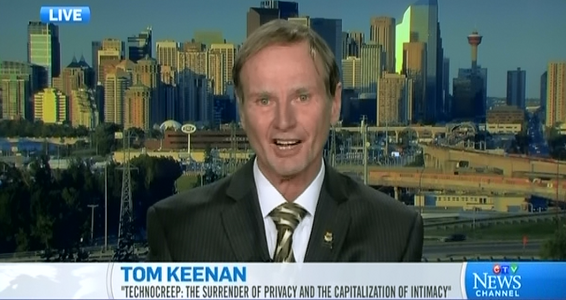 Technology has started to move into a new, and very creepy phase. Wheels are turning within wheels and information is flowing in ways that most people don't understand. We've heard a lot about government surveillance, but what businesses are doing may be even more disturbing. For example, you look up a product on Amazon and suddenly it's showing up as an ad on your Facebook Page. Your eyeballs have just been sold to the highest bidder, through a little known system called FBX (Facebook Exchange). Or, you walk down Main Street USA at Walt Disney World and smell cookies baking. What you actually smell is a chemical pumped into the air by a patented machine called The Smellitzer. You've just been hit by scent marketing. Stores and shopping malls are starting to use cameras to track your movements and mine data from where you linger, what you look at, and especially, what you pick up but don't purchase.
Tom Keenan combines a deep technical knowledge with lively insights into the social and cultural aspects of technology. He was educated at Columbia University, receiving BA, M.Sc., MA and Ed.D. degrees in Philosophy, Mathematics, Engineering and Education. He is a popular professor of Environmental Design and Computer Science at the University of Calgary, a Fellow of the Canadian Information Processing Society and the Canadian Defence and Foreign Affairs Institute, and a Research Fellow of the Centre for Military and Strategic Studies. Tom taught Canada's first computer crime course, and was involved in drafting the country's inaugural computer crime legislation.
Dr. Keenan is the author of over 500 academic papers, book chapters, presentations and articles, and has spoken on five continents to academic audiences, major conferences and the general public. His latest book, Technocreep dissects how technology is becoming creepy in hidden ways that are difficult for most people to understand. It has recently appeared in the top ten on Amazon.ca in categories including Civil Rights and Liberties, Technology & Society, and Social Aspects of Technology.
Copies of Technocreep will be available for purchase ($20 cash) at the meeting. Tom will be happy to sign these.
Tillyard Conference Centre
715 - 5 Ave. S.W.

5:30 PM, Tuesday, November 24, 2015
Snacks at 17:30. Meeting begins at 18:00.
Building doors are locked at 18:00, so please try to arrive early.
There is $2 parking after 16:00 across the street in the underground parkade (McDougall Centre).
Everyone is welcome. Non-members must register by sending e-mail to office at CUUG.
---
See the main CUUG web page for general information about CUUG.