September General Meeting
Android - What is under the hood? Should you care?
Speaker: Ryan Medeiros, computer hobbyist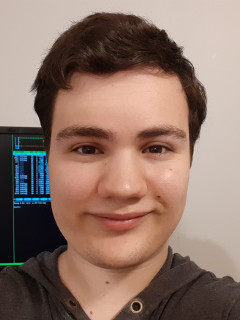 Our cell phones have integrated the functionality of many separate devices. They are small and powerful. They are ubiquitous.
We take them everywhere we go. We depend upon them. However, these devices are black boxes to most of us. We hope we know what our devices are capable of, what the stakes are for depending on them. We hope.
In this presentation, Ryan will show some findings based on the research for his contributions to PostmarketOS. His goal with this presentation is to explain and help you understand some of the inner workings of smart phones and how they can bite you.
Ryan Medeiros is a fan of free/libre software, open source, copyleft, Creative Commons and an alternative web. In his free time, he contributes to various free/libre open source software (FLOSS) projects especially PostmarketOS, a mobile OS for older devices.
He likes to analyse a problem from all angles and sides, flip them inside out and explore further, before picking them apart. He loves obsolete computers, obscure systems and musical synthesizers.
Place 800
800 - 6 Ave. S.W.
Plus-15 Conference Room
There is $2 parking after 16:00 one block north-east of the meeting location, in the underground parkade at McDougall Centre.
5:30 PM, Tuesday, September 24, 2019
Snacks at 17:30. Meeting begins at 18:00.
Attendance is free for CUUG members, or $10 (cash only) at the door for non-CUUG members.
RSVP to office at CUUG if you plan to attend.